Understanding your homeowners policy could be overwhelming. But it doesn't have to be. Let me explain.
There are 6 basic policy types
HO-3, Homeowner
H0-4, Renters
H0-5, Homeowner (aka HO-3 + 15)
HO-6, Condominium
DP1 or DWG1 or Dwelling 1
DP3 or DWG3 or Dwelling 3
For the purposes of this series we are focusing on the HO-3 since it is the most common.
Click here to start a quote. You may call or text me at 318-336-5203.
HOMEOWNER OVERVIEW
The homeowner's policy is a package policy in which it will include 6 basic parts. We will talk generally about the what is included in each of these parts.
Parts:
Coverage A : Dwelling
Coverage B: Other Structures
Coverage C: Personal Property
Coverage D: Loss of Use
Coverage E: Liability
Coverage F: Medical Payments
Click here to start a quote. You may call or text me at 318-336-5203
Lets dig a little deeper

Coverage A: Dwelling
This is coverage on your home itself. This is based on the Replacement Cost of that home. Replacement Cost is the cost to rebuild the home from the ground up.
We use this value because is a loss occurs, we need to have a predetermined idea of the cost to repair or rebuild and not necessarily the cost to re-buy since market and construction costs can vary so much.
Coverage is subject to a deductible. Most of our policies have a flat dollar deductible such as $1,000 that applies to all property related losses
Please note: many of our competitors will have a separate percentage deductible that is much higher that applies to wind or hail. A 2% deductible on wind on a home with a replacement cost of $250,000 equates to $5,000 deductible on any wind related claims, such as roof damage. You do not have to settle for this. There are better options out there that we can offer for probably no additional premium.
The Dwelling limit is used to calculate the other coverage parts other than Liability and Medical Payments.
Coverage B: Other Structures
This is coverage for detached structures such as sheds, pools, fences, ect.
The coverage amount is automatically calculated at 10% of your dwelling limit. So if you have $250,000 on your home, then you will have $25,000 on your other structures automatically.
This limit can be adjusted up or down with most carriers.
It is subject to a deductible.
Click here to start a quote. You may call or text me at 318-336-5203
Coverage C: Personal Property
This is coverage for your belongings. Think moveable items such as furniture, clothing, food, electronics, computers, jewelry, ect.
The automatic coverage limit is 50% of your dwelling coverage. This amount can be changed.
Typically, this coverage is based on Actual Cash Value. We sometimes say that the "evaluation basis" is Actual Cash Value. You need to watch out for this one. If your Personal Property is insured at Actual Cash Value (ACV) then any claims for personal property will be depreciate for age and wear and tear. Potentially this could significantly reduce a claim payment. Typically you do not have to settle for this option. Usually we can remedy this prior to a claim easily and inexpensively.
All policies have internal lower limits for items such as: jewelry, computers, electronics, guns, collectibles, ect.
Coverage D: Loss of Use
This is coverage for additional living expense from being displaced from your home due to a covered loss.
The coverage limit is 20%, it can be increase, and carries no deductible.
Coverage E: Liability
This is coverage for bodily injury or property damage that you are legally liable for.
Coverage limits usually start at $100,000 and you can typically select up to $500,000.
There is no deductible.
You can purchase higher liability limits by purchasing an Umbrella Policy. The cost is usually minimal for these policies and will provide higher limits to other polices such as your auto liability policy.
Click here to start a quote. You may call or text me at 318-336-5203
Coverage F: Medical Payments
Coverage for medical bills for people injured at your location regardless of legal liability.
This is a "no-fault" coverage.
Typical limits are $1.000 to $10,000
There is no deductible.
Standard Exclusion
Flood

Typically purchased as a stand alone policy.
Policy limits typically cap out at $250,000 on your home and $100,000 on your personal property.
In some areas Excess Flood policies can be purchased to provide higher limits.
Most flood damage claims are a result of excessive rain.

Earth Quake

Can usually be added by endorsement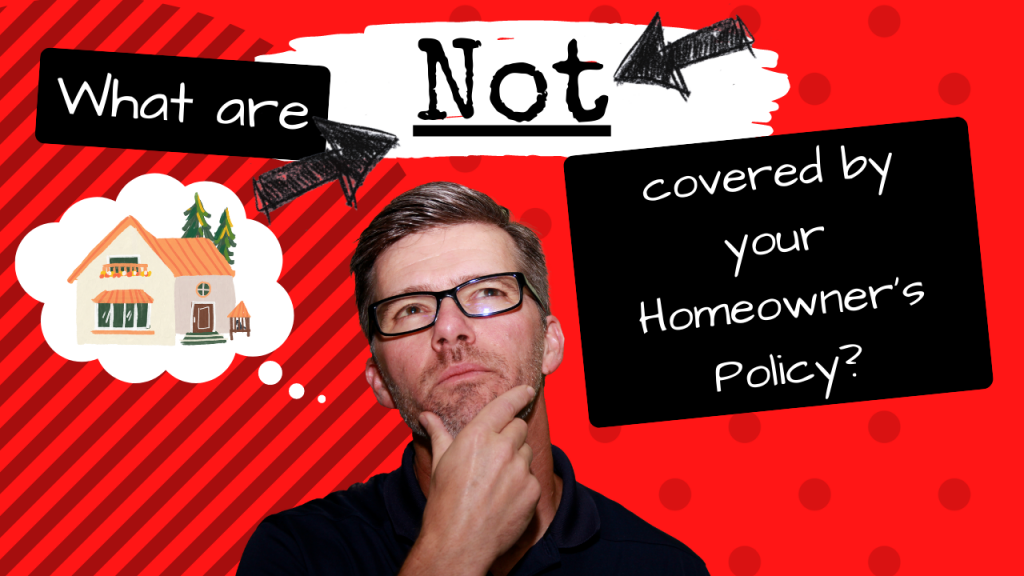 Common Insurance Terms
Replacement Cost

The cost to rebuild or replace with like and kind at today's cost. This does not apply depreciation to the evaluation.

Actual Cash Value

Replacement cost minus depreciation for wear and tear. This is less desirable than replacement cost.

Open Perils

This refers to the list of perils or types of claims a policy will insure against. Open Perils or All Risk means it is covered unless there is a specific exclusion that limits coverage. Typical exclusions are meant to limit coverage for maintenance, wear and tear, and intentional acts.

Named Perils

This also refers to the perils of a policy. In this case there is a specific list of perils that are insured against.
Be aware, there are Special Limits on Home Insurance Commonly Limited Items
Here is a checklist of items that typically have special limits or exclusions associated with them.
Money
Securities
Trailers
Watercraft
Jewelry
Collections and collectibles
Antiques
Furs
Wine
Fine Arts
Silverware
Sporting Equipment
Bicycles
Firearms
Landscaping
Swimming pools
Electronic Data Restoration
Business Property
While your home insurance does not have to be overly complicated, you still need a trusted adviser to help you make decisions. That's where we come in.

Find out what is different about us today:
Text or call: 318-336-5202
Email reed@reedinsla.com
You can meet our team HERE
You can start a quote HERE
We'll be glad to take a look at your insurance coverage in any of the states of Louisiana, Texas, Arkansas, and Mississippi.
Thank you,
Beaux Pilgrim, CEO