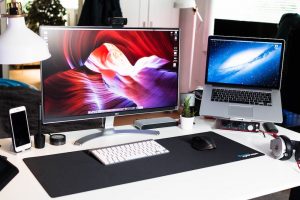 There is a "ransomware pandemic in the United States" according to supervisory special agent of the FBI Joel DeCapua. These attacks are malicious and can wreck devastating effects on your personal assets and business. Hackers are increasingly targeting larger targets but still most ransomware attacks are still home computers and small businesses.

Ransomware attacks usually start when a person or employee opens a link is a legitimate looking email only to find that they have been affecting by a virus. Immediately you may not be aware of the initial infestation.
Typically, you will find out at sometime in the future when your computer suddenly becomes in accessible by you followed by a demand for a payment in bitcoin to unlock your computer or even entire network.
Hackers are becoming increasingly savvy and many of the emails will look very legitimate.
If your computer has any "personal identifiable information" you are at high risk of being exploited. Personal identifiable information can be anything from dates of birth to social security numbers, bank info, and credit card numbers. This information could be captured by your computers history without you being even aware.
As a business, non-profit, or public entity you are required to notify ALL of your customers immediately if there is a breach. We know that many time perceptions can be worse than reality. Reality may be that no usable data has been stolen but perception could be that your business has just seriously breached the trust of your clients. This could be devastating to a company. As Warren Buffet says, "it takes a lifetime to build a reputation but only moments to destroy one."
A proper cyber policy can help to mitigate a loss such as this with assistance to:
Negotiate with the terrorist
If necessary, pay the ransom on your behalf
Discover and fix the vulnerability so it does not happen again.
Clean and restore your data
Handle public relations to lessen public harm
Get you back to business faster
Many of these policies are much less expense than you may think especially when you compare them to the cost that it could inflict on your business.

Find out what is different about us today:
Text or call: 318-336-5202
Email reed@reedinsla.com
You can meet our team HERE
You can start a quote HERE
We'll be glad to take a look at your insurance coverage in any of the states of Louisiana, Texas, Arkansas, and Mississippi.
Thank you,
Beaux Pilgrim, CEO